Load/force sensors are used throughout industry and research to measure load, weight, force, etc. This page will help you find the right supplier for the sensor that you need. Scroll down for details of the large variety of load sensing products available, clicking on the individual website links to learn more and find the model to solve your measurement problem.
To find out how load cells work, click here >>

Applied Measurements Ltd.
Transducers and Systems for the measurement and control of
Load, Pressure, Level, Displacement, Torque, Position, Strain, Weight, etc.
Instrumentation, Displays, Condition Monitoring, Calibration & Telemetry
Custom Design Service available... Please call us to discuss.
Telephone: +44(0)118-981-7339 Fax: +44(0)118-981-9121
Email: sales@appmeas.co.uk Web Site: www.appmeas.co.uk

Honeywell Control Systems Ltd.
Sensors for Flow, Force, Position & Pressure
Telephone: +44(0) 118 906 2600 Fax: +44(0) 118 981 7513
Web Site: www.honeywell.com/sensing/


Sensors for
Acceleration, Load, Pressure, Strain, Torque & Vibration
plus Calibration Systems
Telephone: +44(0)1420 544477 Fax: +44(0)1420 544474
Email: sales.uk@kistler.com Website: www.kistler.com


Over 100,000 products for Process Measurement and Control
Large choice of Sensors with supporting Systems...
FREE Handbooks or CD's available on request via our website
SHOP ON-LINE 24 hours a day at www.omega.co.uk
Telephone: +44(0)161 777 6611 Fax: +44(0)161 777 6622
Email: sales@omega.co.uk Website: www.omega.co.uk


RDP Electronics Ltd.
We have a comprehensive range of general purpose and
specialist load cells including low load precision sensors,
shock load sensors and high capacity load cells
Tel: +44(0) 1902 457512 Fax: +44(0) 1902 452000
Email: sales@rdpe.com Website: www.rdpe.com


High accuracy load cells, indicators, systems & accessories for force measurement and calibration
Dynamic Pressure Mapping Systems
Serving aerospace, defence, fatique, industrial, OEM, research, spring & testing industries

Telephone: +44(0)1344 776666 Fax: +44(0)1344 774765 Email: info@interface.uk.com Websites: www.interface.uk.com & www.xsensor.co.uk

Sensortechnics' product portfolio includes pressure, level, flow, oxygen and force sensors as well as liquid level and fluid monitoring detectors, miniature solenoid valves, diaphragm pumps and electronic pressure controllers. More than 25 years of experience in providing highly customised sensing products.
Tel: +49 (0)89 80083-0 Fax: +49 (0)89 80083-33
Email: info@sensortechnics.com Website: www.sensortechnics.com

We are a leading manufacturer and supplier of advanced Load Cells, Force Sensors, Torque Sensors, Pressure Sensors, Signal Conditioners, Digital Displays and Portable Sensor Verification / Calibration Systems (VCal)
utilising Strain Gauge and thin film technology.
Tel: 949-465-0900 Fax: 949-465-0905
Email: futek@futek.com
Website: www.futek.com


Non Contact Position Measurement - Eddy Current, Capacitance, Ultrasonic, Laser, Fibre Optic Technologies.
Force and Torque Sensors - Straingauged clevis pins, bolts and load cells, custom design for automotive, medical and aerospace.
Vibration Monitoring - Machinery health condition monitoring solutions - vibration, acceleration and shock.
Telephone: +44(0)1327 353437 Fax: +44(0)1327 353564
Email: tony.stoyles@ixthus.co.uk Website: www.ixthus.co.uk

Sherborne Sensors' load cells have been relied on by designers, engineers, manufacturers and test and measurement facilities worldwide for over 30 years. Our load cell portfolio gives our customers a greater choice of load cells than ever, with 1 day priority delivery or with FREE 2-3 days standard delivery on our most popular products. For more information please email us at sales@sherbornesensors.com . To download our catalogues and datasheets please visit us as: www.sherbornesensors.com . To buy online please visit our e-commerce site at www.b2b-sherbornesensors.com


GST is a specialist supplier of high quality sensing equipment priced for a competitive market. A wide range of stock is available; we also consider bespoke components as requested.
Tel: +44(0)161 4464848 Fax: +44 (0)161 4382828
Email: sales@globalsensortech.com Website: www.globalsensortech.com

Force sensors for dynamic measurements in the presence of high static forces. Uni and Tri-Axial versions. Ranges from 10N to 444kN. ICP® Dynamic Strain Sensors. Torque sensors, strain gauge load cells, fastener test systems wheel force transducers and instrumented steering wheels.
Tel: +44(0)1462 429710 Fax: +44(0)1462 429712
Email: ukinfo@pcb.com Website: www.pcbpiezotronics.co.uk


Load cell and strain gauge solutions for force measurement. Ex-stock and custom designs available at cost-effective prices with fast delivery worldwide.
Tel: +44(0)1983 249264 Fax: +44(0)1983 249266
E-mail: info@lcmsystems.com Web: www.lcmsystems.com



Manufacturers of a wide range of single and multi-axis loadcells. Custom designs a speciality. Suppliers of loadcell instrumentation including telemetry. In-house calibration for force and torque.

Tel: +44(0)1424 852744 Fax: +44(0)1424 853002
Email: info@novatechloadcells.co.uk
Website: www.novatechloadcells.co.uk

Flintec offers a custom service that can handle the design and manufacture of low to very high volume Load and Force Sensors.
Tel: +1 978 562 7800 Fax: +1 978 562 0008
Email: info@flintec.com
Website: www.flintec.com

OTHER SUPPLIERS - FREE basic entry
Email Company & Tel. No. to mike@sensorland.com to be included
Acam Instrumentation Ltd. - Tel: +44(0) 1604 628700
Direct Weigh - Tel: +44(0) 1491 872042
Eluox Automation, China - Tel: 0086 28 8626 7110
Fife-Tidland GmbH - Tel: +49 (6195) 7002.0
HBM United Kingdom Ltd. - Tel: +44(0) 208 515 6000
Interface Force Measurements Ltd. - Tel: +44(0) 1344 776666
Knoweigh Ltd. - Tel: +44(0) 1625 869842
TTS Systems - Tel: +44(0)1233 624422
Mecmesin Ltd. - Tel: +44(0) 1403 799979
PCB Piezotronics, USA - Tel: 716-684-0001 (USA)
PCM Limited - Tel: +44(0) 1926 864444
Powertronics Ltd. - Tel: +44(0) 118 984 5351
Precision Measurement Products, USA - Tel: 847 426 4446
Revere Transducers USA - Tel: 1-800-872-4784
Transducer Factors - +44(0) 118 926 4426
Sensors UK Ltd. - Tel: +44(0) 1727 844323
SE Systems - Tel: +44(0)1702 530174
Sensor-Technik - Tel: 01234-782049
Strain Measurement Devices Ltd. - Tel: +44(0) 1284 852000
Straintek Precision Services - Tel: +44(0) 118 941 0530
Kavlico Corporation UK - Tel: 44 29 2046 3449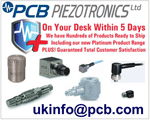 This Space available
Place your message in this high profile LINK box. Email for details...
link@sensorland.com
---