Catalogue of Torque Sensors
Examples of our wide range of torque transducers and
signal conditioners.
Call or Email to find out about our Ultra-Precise line.
Tel: (847) 843-3300
Email: sales@himmelstein.com
Web: https://www.himmelstein.com/


---
---
Interface Force Measurements
are renowned for supplying industry leading, precision load-cells, torque transducers and instrumentation, backed by industry leading levels of reliability and customer service. If you'd like a copy of our latest catalogue, containing the complete range of Interface load-cells, from small S-beam to Gold Standard calibration grade products, please contact us at info@interface.uk.com, or see our web site www.interface.uk.com
---

ESI Technology Ltd.

Latest catalogue on Pressure Transducers and Transmitters from ESI Techology.

For your FREE copy, click here>>




---

Sherborne Sensors is a specialist sensor manufacturer that provides a wide range of high precision and ultra-reliable sensors including accelerometers, inclinometers and load cells.
For more information please email us at sales@sherbornesensors.com
To download our catalogues and datasheets please visit us as: www.sherbornesensors.com . To buy online please visit our e-commerce site at www.b2b-sherbornesensors.com

---
E+E Elektronik GmbH
Sensors, Transmitters, Data Loggers, portable Instruments, Calibrators and Calibration Services for Measurement of Humidity, Dew Point, Moisture in Oil, Air Velocity, CO2 and Temperature.
Email for your FREE copy to:info@epluse.com
Website: www.epluse.com


---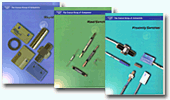 Comus Europe Ltd.
Comus Europe Ltd. designs, manufactures and distributes over 800 switches and sensors including Acceleration, Float, Level, Magnet, Motion, Proximity, Reed, Relay, Tilt/Tip and Vibration.
Contact us for your FREE copies...

Email: sales@comuseurope.co.uk Website: www.comuseurope.co.uk
---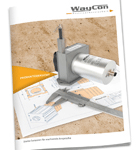 Waycon
Specialist for professional Displacement Transducers
Manufacturer of accurate measurement systems and
professional sensors. Contact for all technical measurements, all applications in areas of position & distance measurement techniques, level and angle measurements.
Email:andreas.taeger@waycon.de Web: www.waycon.biz/home


---

Sensonics Ltd.
Condition Monitoring Specialists
Turbine Supervisory Guide: Techniques for the monitoring and protection of power plant equipment.


Aegis: Machine condition monitoring system.
Sentry: Machinery protection system.
Vibration Transducer Product Catalogue
Email: sales@sensonics.co.uk Web: www.sensonics.co.uk
---
Applied Measurements Ltd.
Catalogue of Sensors & Systems
Catalogue giving details of our wide range of SENSORS and SYSTEMS for the measurement of Load, Pressure, Torque & Displacement.
Call or Email for your FREE copy... Tel: +44(0) 118 981 7339 Email: sales@appmeas.co.uk Web: https://appmeas.co.uk

---
Sensonics Ltd.
Condition Monitoring Specialists
Product Overview: Vibration, Temperature, Bearing Condition Displacement, Speed, Seismic
Protection.
Spyder DN36: Remote Machine Monitoring.
Seismic: Monitoring & Protection Systems Product Guide.
Email: sales@sensonics.co.uk Web: www.sensonics.co.uk
---

Ixthus Instrumentation
Non Contact Position Measurement
Types available :- Inductive - Eddy Current - Capacitance - Ultrasonic - Laser
For more information, contact...
Email: sales@ixthus.co.uk Web: www.ixthus.co.uk

---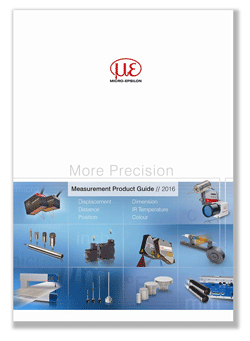 Micro-Epsilon
Precision sensor manufacturer Micro-Epsilon has published a new, 36-page "Measurement Product Guide 2016" that is packed with a host of innovative products.
The fully revised edition provides a summary of Micro-Epsilon's comprehensive range of products, from sensors for displacement, distance, position and length measurement, to 2D/3D laser sensors for dimensional measurements, non-contact temperature sensors, thermal imaging cameras, optical micrometers and fibre optic sensors, colour sensors and LED analysers, sensors for specific OEM applications, and full turnkey measurement and inspection systems.
Telephone: +44(0)151 355 6070 Email: info@micro-epsilon.co.uk
Website: www.micro-epsilon.co.uk
---

Keller UK Ltd.


NEW Catalogue describing the range of PRESSURE SENSORS & TRANSMITTERS
Email: sales@keller-pressure.co.uk
Web: www.keller-pressure.co.uk

---
Kistler Instruments Ltd.
NEW catalogue for Sensors & Associated Monitoring & Control Equipment for the measurement of Force, Pressure & Acceleration.
Email: sales.uk@kistler.com Web: www.kistler.com


---
RDP Electronics Ltd.
TRANSDUCER SIGNAL CONDITIONERS
Telephone: +44(0)1902-457512 Fax: +44(0)1902-452000
Web: www.rdpelectronics.com


---

Digital Brochures
Sensors for the Maritime Industry (PDF) >>
Sensors for the Offshore Industry (PDF) >>
Sensors for the Railway Industry (PDF) >>
Pressure Sensors (PDF) >>
Graphtec Dataloggers (PDF) >>
Laser Position Sensors (PDF) >>
Fiber Optic Sensors (PDF) >>
ATEX Certified Sensors (PDF) >>
---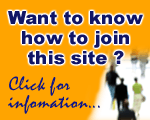 ---
---
---
---