Engineers, scientists and students can now access FREE on-line information on sourcing and learning about Sensors and Measurement Systems and Software by clicking on to www.sensorland.com

Launched in June 2000, sensorland.com gives Sensors and Data System Suppliers an up-to-date method to promote their products worldwide. Celebrate with us our 20th year !!! and still going strong.




The Website is both informative and educational, and also gives details of participating Suppliers, helping engineers to purchase the products they need.

The site contains over 3700 pages of information and has over 400 links to major company sites. It is updated daily and promoted in advertising, press releases, other relevant sites (contra & affiliation links), submission to search engines and exhibitions through out the UK and worldwide, all aimed at increasing the site traffic.


---
Visitor Analysis Information...

Now in 2018, the typical DAILY 'visitor' rate is around 1200...that's approaching some 37,000 every month, with 'Page Views' at 72,000 and 'Hits' at 314,000.

We are at present setting up a Google Analytics account so that we can share the visitors information with you...

To help you understand the visitor analysis...
Unique visitors refers to the number of distinct individuals requesting pages from the website during a given period, regardless of how often they visit. Visits refer to the number of times a site is visited, no matter how many visitors make up those visits.

A hit is a request to a web server for a file, like a web page, image, JavaScript, or Cascading Style Sheet. When a web page is downloaded from a server the number of "hits" or "page hits" is equal to the number of files requested. ... A more accurate measure of web traffic is how many page views a web site has.)
---

---
For downloadable Information Pack with prices, £Pound or $Dollar...
Sensorland's Homepage...
Designed to be easy to use, without complex and flashy navigation, the site has received many acclaims from both participants and users for its simplicity of use, its high quality content and its effectiveness in product promotion and resulting sales.

A recent recommendation from a sensor company using the SUPPLIERS section of Sensorland.com confirmed the TOP REFERRERS for his site as...

1. Google
2. Google AdSense
3. Sensorland
4. Yahoo
5. Bing

Another good reason to join Sensorland.com...

To read more independant comments on the site, click here...
---
Sensorland.com at Exhibitions & Conferences...
The Sensorland.com stand at the Sensors and Instrumentation Exhibition held at the NEC, Birmingham in September 2018.

Over the past few years, we have exhibited at several exhibitions around the country including the Engineering Integrity Society's Exhibition at Silverstone RaceTrack in March, The Drives and Controls Show in April, Sensors and Instrumentation in September and the Advanced Engineering UK Exhibition in November, all at the NEC, Birmingham.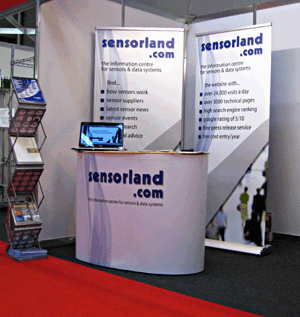 Clients can take display space to promote their latest catalogues. To register your interest in this event, email us at mike@sensorland.com

Due to the COVID-19 situation and the cancellation of many sensor oriented exhibitions, Sensorland.com is not exhibiting but is taking part in Virtual Shows, where these have been organised.