Acoustic sensors are used throughout industry and research to measure sound levels and frequency. This page will help you find the right supplier for the sensor that you need. Scroll down for details of the large variety of acoustic sensing products available, clicking on the individual website links to learn more and find the model to solve your measurement problem.
Visit 'How they work' to find out how an acoustic sensor works.

Techni Measure
Pressure Transducers, Load Cells, Accelerometers, Strain Gauges,
Position Sensors & Instrumentation Systems
Telephone: +44(0)1527 854103 Fax: +44(0)1527 853267
Email: sales@techni-measure.co.uk Web Site: www.techni-measure.co.uk
Click for
page...


Sensors for
Acceleration, Load, Pressure, Strain, Torque & Vibration
plus Calibration Systems
Telephone: +44(0)1420 544477 Fax: +44(0)1420 544474
Email: sales.uk@kistler.com Website: www.kistler.com


GST is a specialist supplier of high quality sensing equipment priced for a competitive market. A wide range of stock is available; we also consider bespoke components as requested.
Tel: +44(0)161 4464848 Fax: +44 (0)161 4382828
Email: sales@globalsensortech.com Website: www.globalsensortech.com

ICP® Microphones / Preamplifiers & Accessories. Precision, Array & Surface versions. Industry unique ICP® Preamplifier working up to 121°C.
High intensity piezoelectric acoustics sensors for measurements above 180dB.
Tel: +44(0)1462 429710 Fax: +44(0)1462 429712
Email: ukinfo@pcb.com Website: www.pcbpiezotronics.co.uk

OTHER SUPPLIERS - FREE basic entry
Email Company & Tel. No. to mike@sensorland.com to be included
MEODAT GmbH (Germany) - Tel: +49 (0)3677 466 29 0
Metro Laser Inc. (USA) - Tel: 949-553-0688
PCB Piezotronics, USA - Tel: 716-684-0001 (USA)
Strainsense Ltd. - Tel: +44(0)1908 543 038
000

To be included in this page, please call +44(0)1902-700973, or email mike@sensorland.com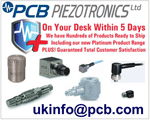 ---
This Space available
Place your message in this high profile LINK box. Email for details...
link@sensorland.com
---
This Space available
Place your message in this high profile LINK box. Email for details...
link@sensorland.com
---
This Space available
Place your message in this high profile LINK box. Email for details...
link@sensorland.com
---
This Space available
Place your message in this high profile LINK box. Email for details...
link@sensorland.com
---
This Space available
Place your message in this high profile LINK box. Email for details...
link@sensorland.com
---